Main content starts here, tab to start navigating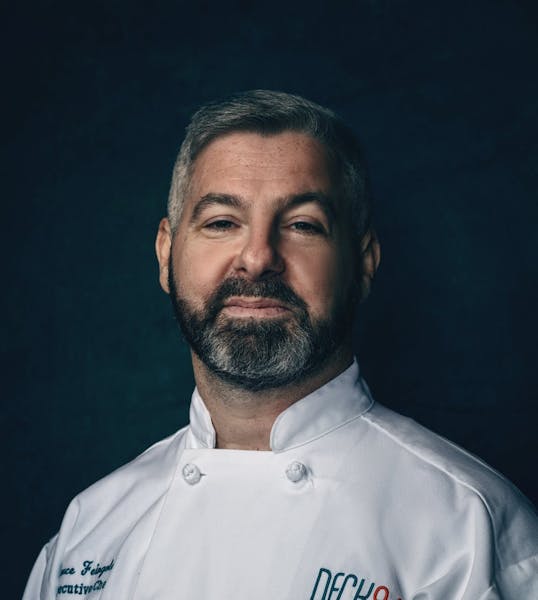 Bruce Feingold
Executive Chef
Bruce Feingold, Executive Chef at Deck 84 in Delray Beach, Florida began his culinary career at just 13 years old, frosting cookies and washing dishes part-time at De Maria's; a local bakery in his hometown of Emerson, N.J. As an adolescent, he worked at a number of neighborhood restaurants for pocket money and fell in love with the fast-paced nature and creative aspect of the industry along the way.
Feingold, completely enamored with all things culinary, learned through a couple of classmates about the rigorous curriculum at the Culinary Institute of America in Hyde Park, New York. Intrigued by the challenge, he applied to the CIA in 10th grade and by the time he entered his senior year, he was accepted into the two-year Associate's program. Feingold excelled at CIA, finding mentors in many of his teachers and creating working friendships that would last a lifetime. At 19 years old, Feingold graduated CIA in 1990 and set off to begin his career in the Sunshine State at The Colony Hotel in Palm Beach, and later at The Governor's Club, where he moved up the ranks to Executive Sous Chef.
In 1996, Feingold opened his first business, Truce Bakery, in West Palm Beach with former CIA classmate, Todd Jent. There, he and Jent baked specialty cakes for restaurants in the surrounding area, never officially opening to the public. After a few years of confection crafting behind the scenes, the Feingold was offered a position at Jupiter Island Club in Hobe Sound where he worked for almost two years. Then in 2000, he received a call from restaurateurs, Rodney Mayo and Scott Frielich to open Dada; a modern American restaurant situated in a historic home on the outskirts of downtown Delray Beach where he would helm the kitchen for the next nineteen years as Executive Chef.
Just a hop, skip and jump from his old stomping grounds, Chef Feingold joins hospitality aficionados, Rapoport Restaurant Group at Deck 84 in downtown Delray Beach. Feingold brings his passion for elevated American cuisine born from his expert training, refined by over three decades of hospitality industry experience, to his new position as Executive Chef of Deck 84 where he continues to grow the waterfront dining destination's Island-inspired menu utilizing seasonal ingredients and sustainable seafood.