Main content starts here, tab to start navigating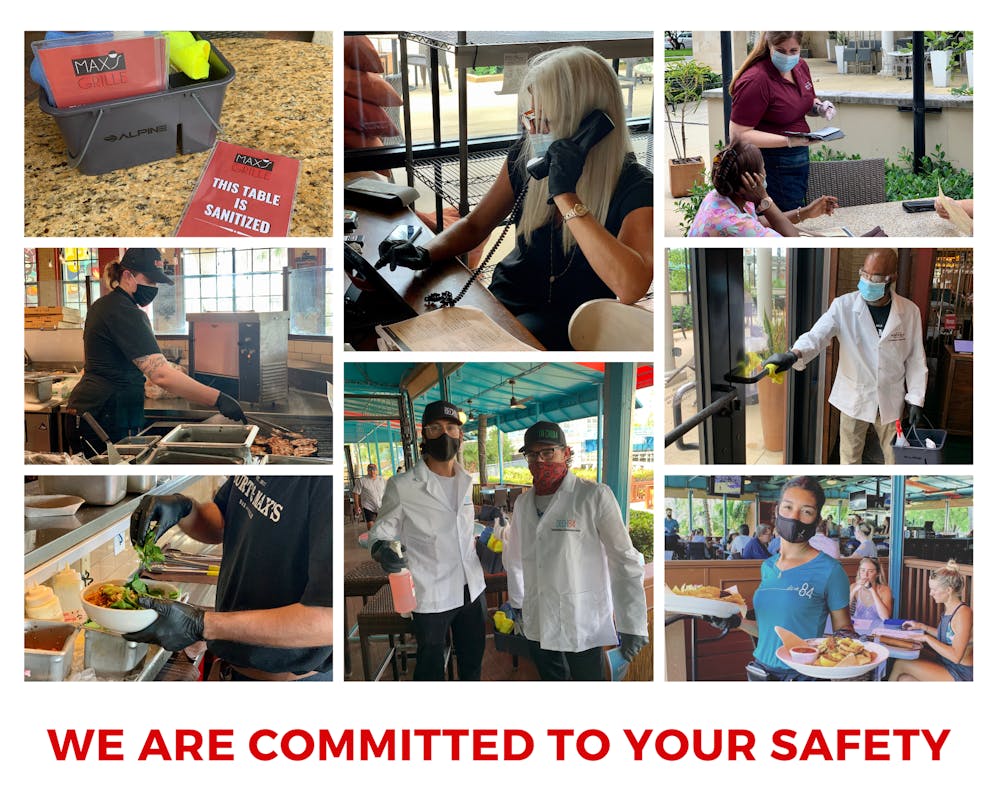 It's extremely important to us that our staff and guests feel safe and comfortable in our dining establishments.
We are constantly evaluating and enhancing our protocols as we navigate through these times. One thing that won't change? Our commitment to your safety!
Our ever-evolving list of protocols include:
Social Distancing - Tables in the dining room and outdoor patio are spaced 6ft apart.
Team member wellness checks - taking temperature checks of all employees before they begin a shift and asking about symptoms. Testing available for our staff and arranged through HR, if necessary.
Masked - All front of house and back of house staff must wear a mask throughout their shift
Enforcing facial coverings for ALL guests as soon as they arrive and when moving about the restaurant. Guests may remove coverings when seated.
Sanitation Administrator - their sole responsibility is to sanitize tables and chairs after each use, sanitize all touchable surfaces throughout the restaurant continuously, and sanitize restrooms.
Using QR code touchless menus or one-time-use disposable menus
Training & Education - Every employee has completed a COVID-19 Restaurant Sanitation & Safety workshop along with daily shift meetings discussing protocol enhancements, reminders & COVID updates from CDC, WHO, John Hopkins Hospital, Florida Restaurant & Lodging Association, etc.
We are ready to serve you safely!
With limited seating available, reservations are advisable.
Plenty of outdoor, covered or shaded seating spaces.
WHAT OUR GUESTS ARE SAYING...
Ani C.
1st time here, with 9 people. We were seated at 2 tables to comply with social distancing. The food and service were terrific. Our waiter took care of both tables and did an amazing job. Thank you for respecting your customers by wearing gloves and masks, including your kitchen staff. (Deck 84)
Andrew O.
Mike the manager was a difference maker. He made us feel as safe as could be during the pandemic. He ensured us how Rapoport's RG has taken every precaution to heart. That gave us a feeling of comfortable surety. Jesse and the staff treated us like old friends. Chef Bruce's food was just what the doctor ordered, a new spin on "comfort food" (try the meatloaf). My family and I left feeling safe, full and extremely happy. I suggest you go to Deck 84 where they are doing the right things. Did I mention they had a guy walking around and disinfecting the whole facility while we were there! Kudos to that wonderful group of caring people.
Sullivan
Deck 84 was on mark with the social distancing and still providing outstanding service! Always my favorite place to go with the wife. Great atmosphere, service, food and view!!!!
Anonymous
I was hesitant to go out for dinner since I'm still concerned about the covid-19. However, as soon as we arrived I was put at ease. Employees wear masks and gloves, railings, tables and chairs were constantly wiped down, and paper disposable menus were used. Thank you deck 84! And the food and service is still too!
Addie
Wonderful Covid procedure compliance. We felt very comfortable. Food and service great as always!
Summer T.
Very positive experience during COVID. All staff wearing masks, tables far apart and lots of sanitizing....
Nataly V
They were really clean and enforcing the mask mandate.
Lisa M.
This is the 3rd time here. Every meal was delicious. Today was 1st time going to a restaurant in months because of COVID. The seating was far apart the staff had masks & gloves. They had a QR code taped on the table for your menu. I was very pleased with their procedures. Will be back again.
Stephen H.
The bar area was kept super clean and seemed to be sanitized almost every hour. Jessica, the bartender, was on top of things, she kept things clean and safe and was very attentive